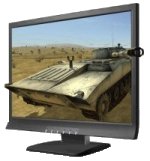 If, like me, you remember all those nausea-inducing stereoscopic shutter glasses from a few years back, then you're already skeptical. However, these new products have some interesting and updated spins on the same underlying immersive concept, and each also makes use of the stereo drivers available for most Nvidia graphics cards (ATI offers no equivalent).

iZ3D 3D DisplayFirst up is
Neurok Optics
' latest iZ3D 22-inch widescreen LCD monitor, which succeeds an existing 17-inch model. Though the iZ3D can function just like any other 2D monitor, it contains two LCD panels to display into- and out-of screen 3D images when you're wearing the company's polarized eyeglasses (available in
seven styles
). I briefly tested the new display at the ShowStoppers event here at CES, and found the glasses to be lightweight and the effect surprisingly non-fatiguing.

Neurok Optics' brochures state the monitor is "compatible with all major games," but you might want to check for your favorite titles on the company's
FAQ page
.

The 22-inch iZ3D has a maximum resolution of 1680 by 1050, a stated 5ms response time, 600:1 contrast ratio and requires a dual-output Nvidia graphics card. It'll be available in May for $1000 and is $800 if preordered by the end of January.

HeadPlay Personal Cinema SystemI also had the chance this week to try HeadPlay's new
Personal Cinema System
. Once you've easily adjusted the headset for your sight and facial proportions, you get the impression that you're viewing a 52 inch display from six feet away. The viewer supports resolutions up to 1024 by 768 and for 3D content, from movies to a range of Nvidia-driven PC games, its single LCoS micro display delivers identical images to each eye to reduce strain.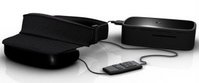 The Personal Cinema System has a range of potential uses. Content is fed to the headset via the small box you see pictured. Dubbed the Liberator, this box includes two USB ports, a Compact Flash slot and composite, component and S-Video inputs. Thanks to this wide range of connectivity, you could connect your PC (for games, Web browsing etc), video game console, video iPod, DVD players and anything else you can think of really.
Unlike most personal headsets, Headplay's Viewer doesn't include integrated headphones. The company has instead chosen to bundle a set of noise reduction ear buds with the unit. I also noticed that the system doesn't feature head tracking (which lets you physically look around in games). For that sort of functionality, you'd need to look at rival head mounted displays like Icuiti's iWear VR920.
The $500 Headplay Personal Cinema System will be available in April.
Wednesday, January 10, 2007 12:35 PM PT Posted by Danny Allen