Asus provides solutions for all categories of users and especially gamers. The release of the P5N32-E SLI motherboard onto the market also comes with the adoption of the Nvidia 680i SLI chipset. Asus further offers a more "advanced" motherboard with slightly different features and of course price. Asus Striker Extreme aims to become the number one choice where gaming/overclocking needs are concerned. We examine how Asus' Striker Extreme performs and what are its main differences compared with the P5N32-E SLI motherboard.
Asus Striker Extreme
The Asus Striker Extreme is based on Nvidia's 680i SLI chipset, which supports Intel®Core™2Extreme, Core™2Duo, Pentium®4EE, Pentium®D, Pentium®4, CeleronD processors for Socket (LGA775). It features 1333/1066/800/533MHz(FSB), dual-channel un-buffered DDR2 800/667/533 x 4DIMMs with a maximum of 8GB.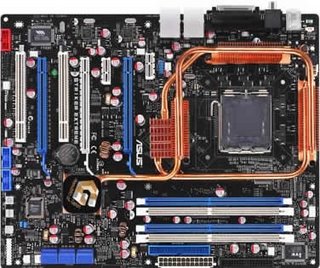 Main Features
Overclocking, performance, unique features and a rich software bundle are our 4 basic commitments to R.O.G (Republic of Gamers) members. Striker Extreme provides a detailed BIOS option for enthusiast tweaking, 8-phase capless power to ensure SLI performance reliability, and the unique gaming features, such as LCD poster, EL I/O, Onboard LED, Onboard button,…etc. Once you use it, you would love it. And rich software bundled is a special characteristic, the hottest 3D game-Ghost Recon, 3dMark06 Advanced Edition, and a one-year license Kaspersky anti-virus software. It's a total gaming solution.
The Republic of Gamers consists only of the best of the best. We offer the best hardw

are engineering, the fastest performance, the most innovative ideas, and we welcome the best gamers to join in. In the Republic of Gamers, mercy rules are only for the weak, and bragging rights means everything. We believe in making statements and we excel in competitions. If your character matches our trait, then join the elite club, make your presence felt, in the Republic of Gamers.
The Main Features Are:

Intel® Quad-core CPU Ready
Intel® Core™2 Extreme / Core™2 Duo Ready
NVIDIA nForce® 680i SLI™
Dual-channel DDR2 800/667/533
Extreme Tweaker
SupremeFX / DTS Connect / Array Mic / Noise Filter
LCD Poster
EL I/O